Pobyty wellness
UZDROWISKO TERMALNE Velké Losiny jest wspaniałym miejscem na pobyt wellness. W uzdrowisku zatroszczą się nie tylko o Wasze ciało, ale również o Waszego ducha. W uzdrowisku pomagamy  pacjentom z różnymi zdrowotnymi problemami. Ale pomagamy nie tylko chorym, nasze uzdrowisko to idealne miejsce do relaksu i wypoczynku.
HOTEL WELLNESS DIANA
HOTEL SPA ELIŠKA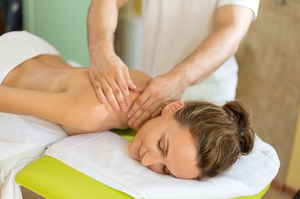 ELIŠKA Velké Losiny
Accomodation, full board, credit of 120 EUR to treatment programme, free entry to the thermal indoor pool.
Wellness in the Thermal spa - well-being, comfort and experience. Treat yourself more than just a holiday in our spa and let yourself be pampered by the hands of professionals. Massages and baths with additional ingredients will help you relax overall.
from 448 EUR / 7 Nights / prs.