Calendar of events full of discounts and bonuses in the thermal park
3. 1. 2020 -
Dear fans of the thermal park THERME LOSINY, we are launching a popular calendar of events for you again.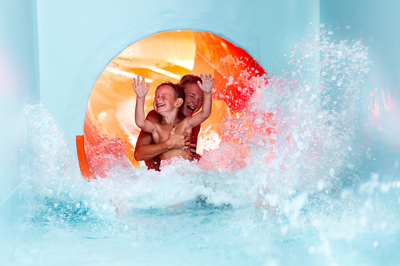 Waterslide in thermal park THERME LOSINY
Come to us and enjoy the variety of themed days, during which you certainly will not be bored.
WHAT YOU CAN LOOK FORWARD TO?
Everybody can enjoy - seniors, families with children, lovers of saunas and guests staying at Velké Losiny in our hotels.
TUESDAY FOR LOWERS OF SAUNAS
Sauna spree for 1 CZK from 10 a.m. till 8 p.m. I'm interested
WEDNESDAY - PARTY FOR SENIOR CITIZEN
Discount 10 % for entry to pools for seniors over 62+, relaxing exercise. I'm interested
THURSDAY - SHORTENED SWIMMING
Shortened swimming 1.5 hours for all visitors price of CZK 200 / person, children under 100 cm free. I'm interested
SPA FRIDAY FOR ACCOMMODATED GUESTS
Admission fee to pools for just CZK 100 / person for three hours. I'm interested
FAMILY SATURDAY - SAUNA SESSIONS
50% discount for sauna (child under 15 accompanied by an adult), animation schedule for children. I'm interested
DISCOUNTED SUNDAY
30% discount on admission fee to pools for three hours From 4 p.m. till 8 p.m. I'm interested
DON'T MISS
Our special offers which are listed in our event calendar cannot be combined with other discounts.
The program is valid only in selected terms. Show deadlines
Stay in our hotels and enjoy the thermal experience to the full. Show offer of stays